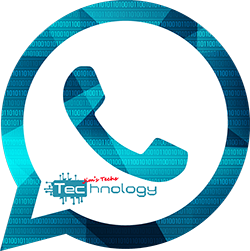 WhatsApp+ JiMODs v9.82 Jimtechs Editions Are you tired of the same old WhatsApp experience? Do you crave personalization and unique features that set you apart from the rest? Then you're in the right place! Say hello to WhatsApp JiMods v9.82, the ultimate solution for those looking to get the most out of their messaging app. Packed with incredible features and customization options, JiMods offers a superior alternative to other mods. Let's dive in and explore everything this amazing app has to offer.
Unrivaled Customization with WhatsApp JiMods v9.82 AntiBAN !
Transform Your App's Appearance
Stand out from the crowd with a range of stunning themes and personalize your messaging experience like never before. WhatsApp JiMods v9.82 allows you to choose from a vast collection of eye-catching themes, giving your app an aesthetic upgrade and setting it apart from other modded versions.
Optimize Privacy and Security
Privacy is paramount in today's digital world, and JiMods understands that. This feature-rich mod lets you take control of your privacy settings, offering options such as hiding your online status, customizing who can see your last seen, and much more. These advanced features give you the peace of mind you need, surpassing the privacy controls of rival mods.
Unleash the Power of Advanced Features
Enhanced Media Sharing Capabilities
Share memories and important files without the limitations of traditional WhatsApp. JiMods v9.82 allows you to send larger files, videos, and high-quality images without compromising on quality. This feature ensures you stay connected with friends and family without the restrictions of competing mods.
Effortless Backup and Recovery
Never lose a precious conversation again. With WhatsApp JiMods v9.82 , you can easily back up and recover your chats and media, ensuring your data is safe and secure. This powerful backup feature sets JiMods apart from other modded WhatsApp alternatives.
Get Started with WhatsApp JiMods v9.82 Today AntiBAN !
Ready to experience the ultimate WhatsApp customization? Download JiMods v9.82 now and enjoy an unparalleled messaging experience. With its vast array of features and personalization options, JiMods outshines competitors. Don't wait any longer – download WhatsApp JiMods v9.82 and unlock a world of possibilities!
Additional Features You'll Love in WhatsApp JiMods v9.82
Customizable Fonts and Styles
Why settle for the default font when you can make your conversations truly unique? WhatsApp JiMods v9.82 lets you choose from various fonts and styles to personalize your messaging experience even further. Stand out from with a distinct text style that reflects your personality.
Anti-Delete Messages and Statuses
Missed an important message because the sender deleted it? Worry no more! With JiMods v9.82 you can enable the anti-delete feature for messages and statuses, allowing you to view content even after it's been removed by the sender. This powerful feature gives you an advantage over users of other modded WhatsApp versions.
Pin More Chats
Keeping track of important conversations has never been easier. WhatsApp JiMods v9.82 allows you to pin more chats than the standard app, ensuring you never lose sight of essential messages. This convenient feature sets JiMods apart from alternatives.
Stay Ahead of the Competition with WhatsApp JiMods v9.82
With its incredible range of features and customization options, WhatsApp JiMods v9.82 is the ultimate choice for those looking to enhance their messaging experience. Outshine users with an app that caters to your every need. Upgrade to JiMods v9.82 today and experience the future of messaging!
Why Choose WhatsApp JiMods v9.82 Over Other Mods AntiBAN !
Regular Updates and Bug Fixes
WhatsApp JiMods v9.82 is committed to providing you with the best user experience possible. The developers behind JiMods continuously work on refining the app, releasing regular updates and addressing any bugs or security issues. This ensures that you enjoy a smoother and more secure messaging experience compared to other MODS.
Responsive Customer Support
Got a question or need help with the app? JiMods offers responsive customer support, ensuring you always have someone to turn to for assistance. This level of support outshines that of other mods, allowing you to confidently rely on JiMods for your messaging needs.
Easy Installation and Use
Installing and using WhatsApp JiMods v9.82 is a breeze. The app is designed with user-friendliness in mind, making it simple to set up and start enjoying its amazing features. This ease of use sets JiMods apart from its competitors.
Conclusion: Elevate Your Messaging Experience with WhatsApp JiMods v9.82
WhatsApp JiMods v9.82 is the clear choice for those seeking a feature-rich, customizable, and user-friendly messaging experience. With its unmatched array of features, seamless updates, and superior customer support, JiMods leaves alternatives in the dust. Don't settle for anything less – download WhatsApp JiMods v9.82 today and revolutionize the way you connect with others!
Key Features of WhatsApp+ JiMODs v9.82 Jimtechs Editions : AntiBAN !
COLORFUL : Basically it can be customized where you can change colors, sizes, and many other things.
EXTRA UPLOAD LIMIT : In addition, you can increase upload media limit (stock limit is 16 Mb) to send large music files or videos.
FULL IMAGE QUALITY: The quality of the image increases while sending (the original one decreases it).
AD FREE : No ads as the original "WhatsApp".
QUICK SHARE : You can share music in one click.
PARTIAL COPY/PASTE : You can select the part you want to copy from text rather copying whole text and send it to people in your contact.
WATCH STATUS : You can directly watch status in the chat screen when you are chatting.
HIDE PROFILE PICTURE : You can hide contact profile pictures and show phone-book pictures (in chat screen).
LOAD OF THEMES : Built-in theme viewer and download. Check WhatsApp+ users themes online and apply any theme you prefer.
Additionally, WhatsApp+ JiMODs v9.82 Jimtechs Editions offers a variety of unique features that set it apart from other messaging apps.
Some of these features include:
The ability to change the style of ticks and bubbles
A counter for group statistics
The ability to preview media without loading
Option to show online/last seen status on the main screen
The ability to send larger videos, up to 30 MB
Ability to send more images at once, up to 90
The ability to write longer status updates, up to 250 characters
Ability to open links on the chat screen without saving the sender's number or group admin's number
The ability to watch status directly from the chat screen
Ability to hide the name and date when copying text to another chat user
The ability to copy and paste status updates
Support for additional file types, including pdf, xls, txt, doc, ppt, vcard, xlsx, txt, rtf, docx, pptx, and zip
To install WhatsApp+ JiMODs v9.82 Jimtechs Editions, you need to first uninstall any previous version of the app that you have installed. Then you can download the "WhatsApp plus JiMODs apk" file and install it on your device. After that, you need to put your phone number and activate the app. And you are ready to enjoy the brand new "WhatsApp plus JiMODs" experience.
Features of  WhatsApp+ JiMODs v9.82 Jimtechs Editions

Base Update:  2.23.13.76 ( Play Store ).
Ban proof.
Supports calls.
Emojis Changer!
Zoom for profiles footage.
Privacy mods: Hide the "Last seen".
Themes mods and Theme Server ( to download/apply themes ).
Amendment ticks/bubbles vogue Mod.
Counter statistics for group.
Media preview without loading.
Show Online/last Seen in Main Screen.
Increase video size sending from 16 MB to 30 MB.
Image sending increases from 10 pictures to 90.
Increase status words from 139 characters to 250.
Ability to proceed links on chat screen while not saving sender variety or cluster admin variety.
Ability to press in links on your friends status without effort.
The chance of identifying between traditional and broadcast messages.
Hide the name and the date while copying to another chat user.
Copy and Paste status.
Added more docs file support pdf, xls, txt, doc, ppt, vcard, xlsx, txt, rtf, docx, pptx ,and zip.
……………….
How to Install WhatsApp+ JiMODs v9.82 Jimtechs Editions ?
Uninstall any previous version if it's installed.
Download "WhatsApp plus JiMODs apk".
Install the "apk".
Put your number and activation.
Enjoy the brand new "WhatsApp plus JiMODs".
What's New
Base Update:  2.23.13.76
Exclusive: Added "Mark As Read" inside chat when hide blue tick is enabled
Added: See Original Message before Edit
Update: Added Hide Play Voice/Video notes option
 Added: Save feature for new Video Messages
Enabled: send Quick Video Message (click once on mic icon)
Enabled: New Navbar UI
Enabled: Send media in HD
Enabled: Pin message for 24hr, 7 days or 30 days
Enabled: Share Status on Facebook (Status tab > Status Privacy)
General bug fixes
Misc Enjoy and discover by yourself!
Other fixes and improvements
Screenshots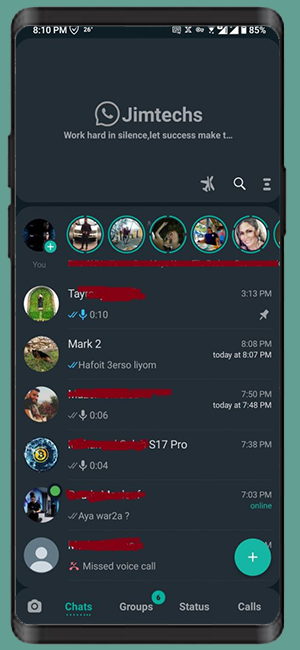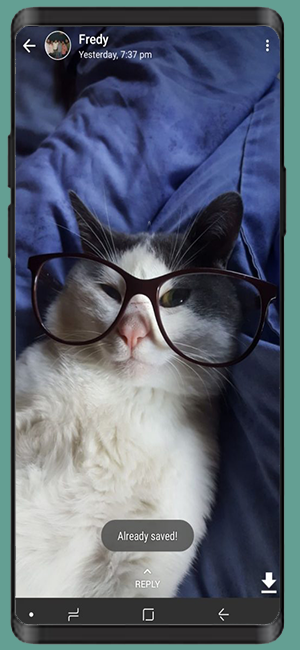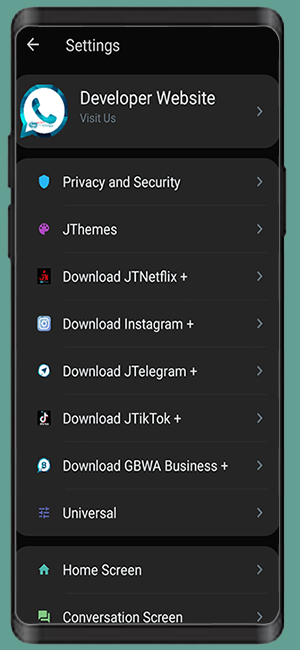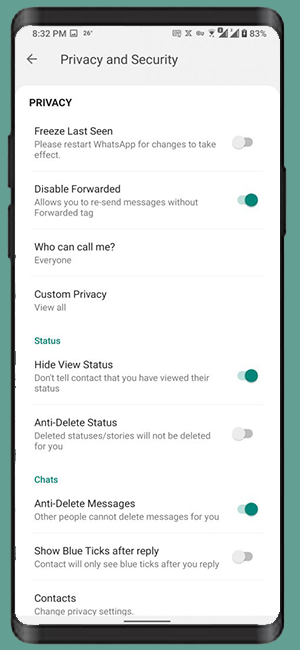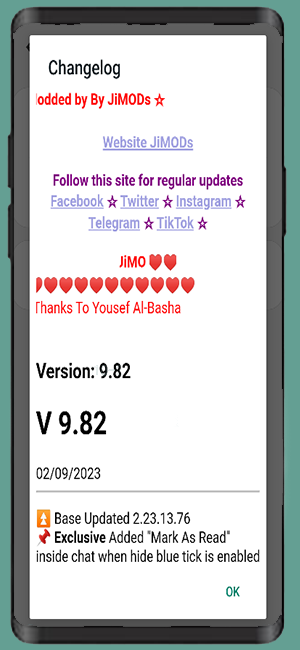 WhatsApp+ JiMODs v9.82 Jimtechs Editions AntiBAN !
com.jtwhatsapp ( Recommended )


com.whatsapp


com.gbwhatsapp