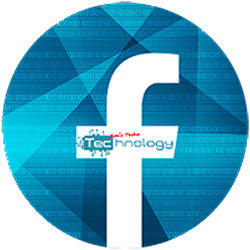 JTFacebook+ JiMODs v3.0 Jimtechs Editions Introduction:
Step into the world of JTFacebook, a product by JiMODs from Jimtechs, specifically designed to upgrade your Facebook experience. Not only does JTFacebook provide a familiar social media platform, but it also offers an enhanced, more intuitive, personalized, and efficient user experience.
A Closer Look at JTFacebook:
Unlike any other, this application is a meticulously crafted enhancement of the original Facebook. Based on the version v422.0.0.26.76, JTFacebook retains the core functionalities of Facebook, while simultaneously introducing a plethora of additional features and performance enhancements.
Unique Features of JTFacebook:
Parallel Installation: JTFacebook offers the unique option of a parallel installation alongside the original Facebook app. As a result, you can enjoy the flexibility of transitioning between the two versions according to your needs.
Semi Ad Blocker: Bothered by continuous ad interruptions? Say hello to JTFacebook's semi ad blocker. This unique feature effectively eliminates approximately 50% of advertisements, paving the way for a less cluttered user interface.
Customized Suggestions: Next, JTFacebook puts you in control of your social media navigation. If you find yourself overwhelmed by irrelevant suggestions, you can selectively erase Facebook's "Suggestions for You." This feature allows for a more tailored and relevant browsing experience.
Broad Compatibility: Additionally, JTFacebook is designed to work flawlessly with Android 6.0 and above, ensuring smooth operation across a diverse range of devices.
Automatic File Cleanup: Last but not least, JTFacebook introduces the capability of auto-deleting unnecessary files. In doing so, it prioritizes storage optimization and overall app performance enhancement.
Conclusion:
In conclusion, JTFacebook goes beyond the standard Facebook experience by offering a suite of additional features and an elevated level of performance. By providing a semi ad-free interface, customizable suggestions, and wide compatibility, JTFacebook caters to diverse user preferences. So why wait? Embark on your JTFacebook journey today and discover a more efficient and personalized Facebook experience.
Update Log – JTFacebook (JiMods) v3.0
Features of JTFacebook (JiMods) v3.0:
Foundation: Built on version v422.0.0.26.76.
Flexibility: Enables a parallel installation with the official Facebook app.
Less Clutter: Features a semi ad blocker, successfully eliminating approximately 50% of ads.
Personalization: Allows selective removal of Facebook suggestions.
Compatibility: Works with Android 6.0 and above devices.
Efficiency: Implements automatic removal of redundant files, optimizing storage.
Performance: Significant enhancements in the application's overall performance.
What's New
Uninstall Old version after Downloading this new Version.
Removed: Advertisements from the main interface
Update: Base v422.0.0.26.76
Added: You can install it alongside the official Facebook
Removed: Redundant files
fixed: All the crashes and problems
Removed: Advertisements from videos
Ignore: Error popup on launch fixed:
Updater fixed: Improvements to program performance
Fixed: Improvements to program performance
Removed: Facebook suggestions for you Support: Android 6.0+ system devices
ScreenShot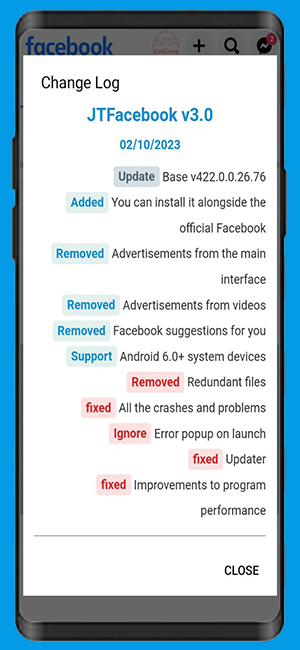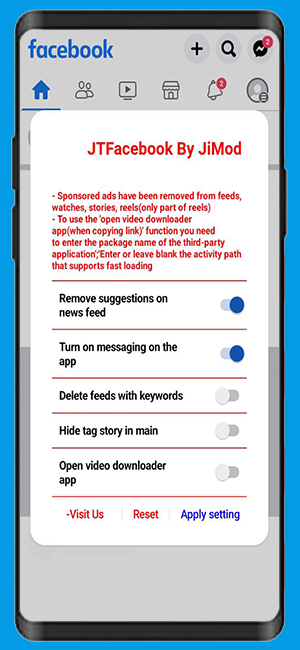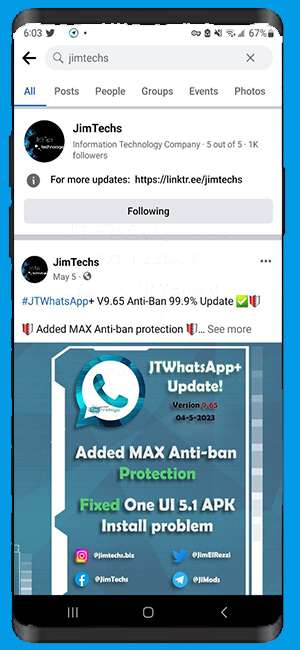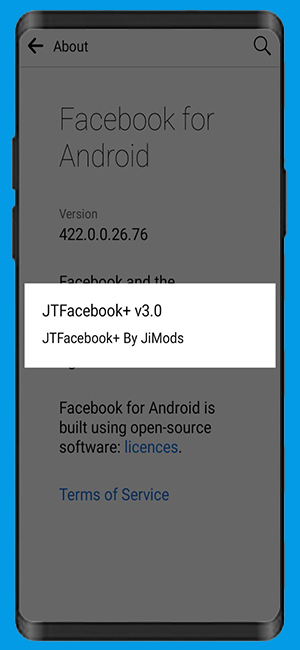 JTFacebook+ JiMODs v3.0 Jimtechs Editions
com.facebook.katanB