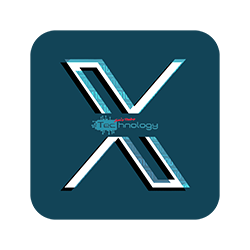 JTX+ JiMODs v1.0 Jimtechs Editions  The Ultimate Twitter Experience
Introduction:
The digital age presents a wealth of social media platforms, and Twitter stands out as a global favorite. However, despite its popularity, there are always areas of improvement. Enter JTX+, a creation from the house of JiMODs Jimtechs Editions. Experience a redefined Twitter journey, tailored just for you. For those looking for an ad-free, privacy-centric, and enhanced Twitter ambiance, JTX+ is undeniably the tool to opt for.
Why JTX+ JiMODs Jimtechs Editions?
Twitter's essence lies in its simplicity and rapid information exchange. But with the increasing commercialization, frequent ads, and privacy concerns have become common issues. That's where JTX+ JiMODs comes in to redefine how you perceive and use Twitter.
Ultimate Media Control:
Videos: Gone are the days when you felt restricted by media controls. With JTX+, download videos at your chosen resolution.
Photos: Save those memorable photos directly to your device without a hitch.
GIFs: Storing GIFs from your favorite Twitter posts is now a breeze.
Experience a Refreshing Ad-Free Interface:
Ads can be intrusive, affecting your Twitter experience. With the JiMODs Jimtechs Edition, say goodbye to:
Tedious promotions.
Promoted tweets that seem out of place.
Endorsed users and the ever-annoying promoted trend hashtags.
Instead, bask in the purity of a cleaner, more focused Twitter feed.
Personalizing Your Discovery/Search Page:
The JiMODs touch ensures you're in control:
Evade those pesky content suggestions based on likes.
View posts exclusively from those you cherish – the people you follow.
Advanced Privacy Tools:
Read Receipts: Enjoy a balance; hide when you've read messages, but see when your messages are read.
Writing Indicators: Keep your typing status private. Let your message be a surprise!
Highlighting the Best of JTX+ JiMODs:
A build grounded on Base 10.4.0-release.0.
Easy downloading of Images/Videos/GIFs.
An entirely ad-free experience.
Say no to random Twitter content suggestions.
Reading and messaging have never been this private.
Dive into Twitter even without an account.
Customize with multiple fonts and themes.
Getting Started:
To commence your revamped Twitter journey, simply click the "Download" button at the end of this piece. A quick redirect to Mediafire ensures a swift download process. JTX+ JiMODs by Jimtechs Editions awaits!
Conclusion:
In a world of mundane social media interactions, why remain ordinary? JTX+ JiMODs by Jimtechs Editions is not just an app; it's a revolution. A shift towards power, privacy, and pure Twitter delight. Embrace the change. Begin your enhanced Twitter voyage today.
Screenshot of the APP!!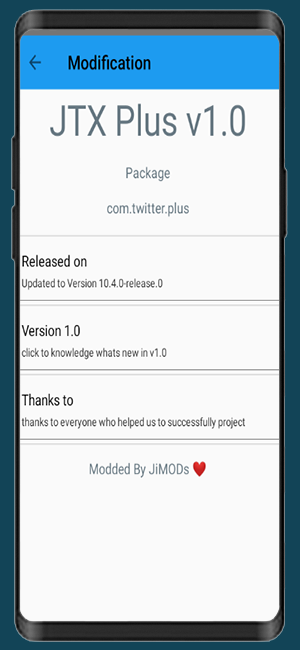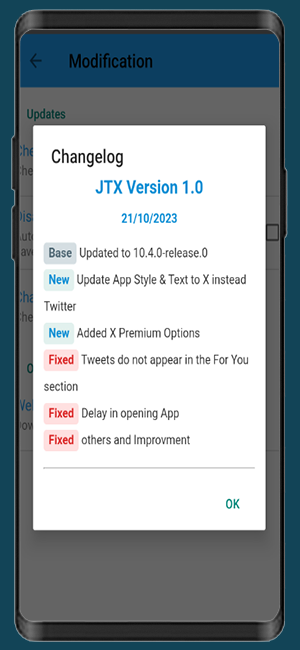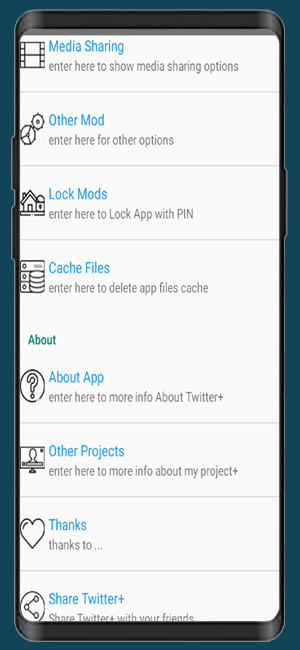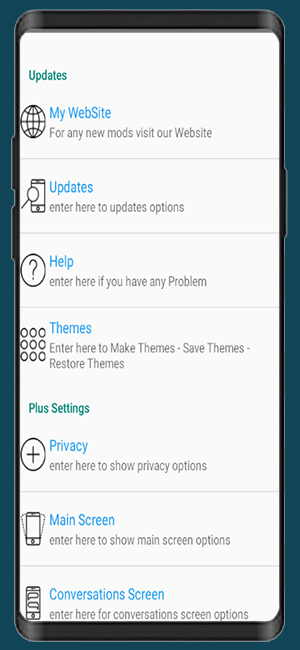 JTX+ JiMODs v1.0 Jimtechs Editions
com.twitter.plus