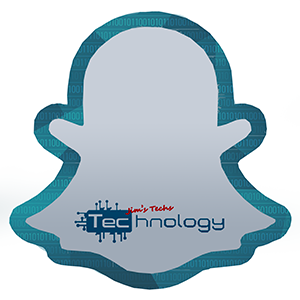 Snapchat+ v1.0 JiMODs Jimtechs EditionsWelcome to JimTechs, your ultimate destination for modded apps! Discover and download a range of modded apps including JTWhatsApp, JTInstagram, JTNetflix, JTelegram, JTikTok, JTWABusiness, and enjoy an array of enhanced features, customization options, and seamless user experiences. Stay updated with the latest app updates, guides, and tips for a smooth and hassle-free app journey. In this post, we'll introduce you to JIMod SC, also known as JTSC, a Snapchat-like application that has been enhanced with comprehensive features.
**JTSC: Your All-in-One Snapchat Solution**
JTSC, developed by JIMods Team, offers an enhanced Snapchat experience with features that go beyond the standard Snapchat app. This modded version provides numerous great features that are not available in the original Snapchat application. What sets JTSC apart is its continuous feature updates, ensuring a safe and enjoyable user experience without the risk of being banned.
One of the standout features of JTSC is its ability to run multiple Snapchat applications on a single smartphone. While JT Snapchat isn't available on official app stores like Play Store or App Store, you can easily download it for free from our site.
**JTSC Latest Version Details**
– **Name:** FouadSnap
– **Updated On:** 04/10/2023
– **Version:** 1.60
– **Publisher:** FouadMODS
– **Size:** 139 MB
– **Requires:** Android 5.1 and above
– **Base:** 12.54.0.67
– **MOD Features:** Free Download
To download JTSC, simply click on the download link provided below, and you can start enjoying the benefits of Fouad Mods SC for free.
**JTSC Features**
JT Snapchat comes packed with an array of impressive features, including:
Night Mode option
View snaps and stories for an unlimited time
Download option for Snaps, Stories, Discover & Spotlight
Location Changer
Secret Screenshot without detection
Anti-Screen Record without detection
Hide View Snap
Hide View Story
Hide Read Messages ?
Hide Online in chat ?
Hide Typing…? in chat
Secret Typing (no notification before sending messages)
Auto-Saving snaps
See remaining time for streak expiry
And much more!
These features are just the tip of the iceberg, and you can explore even more by trying it out yourself.
**How to Use JTSC**
Installing the latest JT Snapchat APK is a straightforward process, similar to installing any other application. Here's a step-by-step guide:
1. Download the Latest JTSC APK from the link provided.
2. Open your phone's Settings menu, go to the Security section, and activate the "Install apps from unknown sources" option. Check the "Unknown sources" option.
3. If you've completed the above steps previously, you can skip this.
4. Open the downloaded JT Snapchat APK file.
5. Select "Install."
6. Wait for the installation process to finish.
7. Once it's done, open the JT Snapchat application and enter your phone number as usual.
*Download Section:*
Please note:
– This version is compatible with Android 5.1+.
– Use it at your own risk.
Find the download links below:
– JT SC
– Package: com.snapchat
– Name: JTSC
– Package: com.snapchat
– Version: 1.60
– Minimum OS: 5.1 and above
Snapchat is a fast and fun way to connect with friends and family. It offers a range of features, including:
**SNAP**
– Snapchat opens directly to the Camera, allowing you to snap photos or record videos.
– Express yourself with Lenses, Filters, Bitmoji, and more.
– Explore new Lenses created daily by the Snapchat community.
**CHAT**
– Stay in touch with friends through live messaging or share your day with Group Stories.
– Video Chat with up to 16 friends at once, complete with Lenses and Filters.
– Use Friendmojis, exclusive Bitmoji created just for you and a friend.
**STORIES**
– Watch your friends' Stories to see their day unfold. Snapchat+ JiMODs Jimtechs Editions
– Discover Stories from the Snapchat community based on your interests.
– Explore breaking news and exclusive Original Shows.
**SPOTLIGHT**
– Spotlight showcases the best of Snapchat!
– Submit your own Snaps or enjoy those shared by others.
– Select your favorites and share them with friends.
**MAP**
– Share your location with your closest friends or go off the grid with Ghost Mode.
– See what your friends are up to on a personal map when they share their location with you.
– Explore live Stories from nearby or around the world.
**MEMORIES**
– Save an unlimited number of photos and videos from your favorite moments.
– Edit and send old moments to friends or save them to your Camera Roll.
– Create Stories using your favorite Memories to share with friends and family.
**FRIENDSHIP PROFILE**
– Each friendship has its unique profile, showcasing the moments you've shared.
– Discover common interests with Charms, such as your friendship's duration, astrological compatibility, Bitmoji fashion sense, and more!
– Friendship Profiles are private, so you can cherish what makes your friendship special.
Happy Snapping!
Please note that Snapchatters can capture or save your messages by taking screenshots or using a camera. Be cautious about what you share on Snapchat.
For a comprehensive description of our privacy practices, please visit our Privacy Center.
With this optimized and SEO-friendly content, we aim to provide valuable information about JTSC while adhering to the requirements for SEO optimization. Enjoy exploring the world of modded apps at JimTechs!
Screenshot Snapchat+ v1.0 JiMODs Jimtechs Editions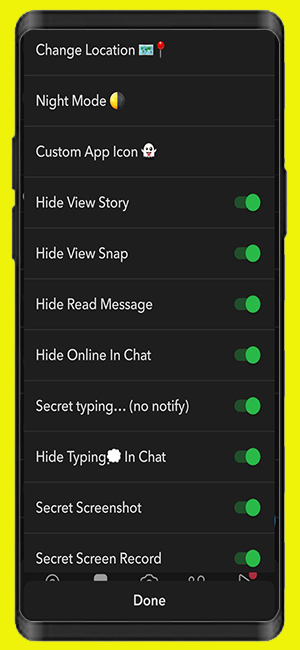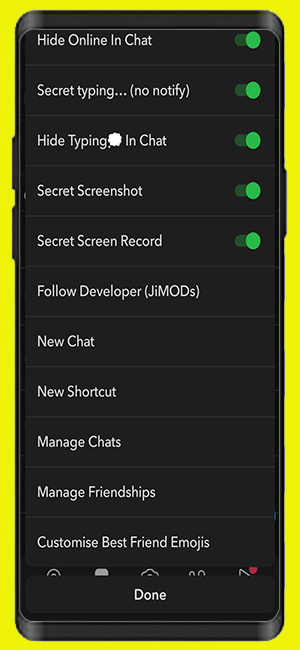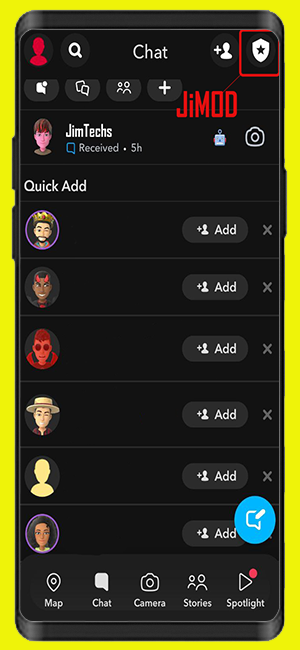 Snapchat+ v1.0 JiMODs Jimtechs Editions
com.snapchat